Mormons—a nickname sometimes used for members of The Church of Jesus Christ of Latter-day Saints–generally dress up to go to church. This doesn't mean they wear expensive clothing.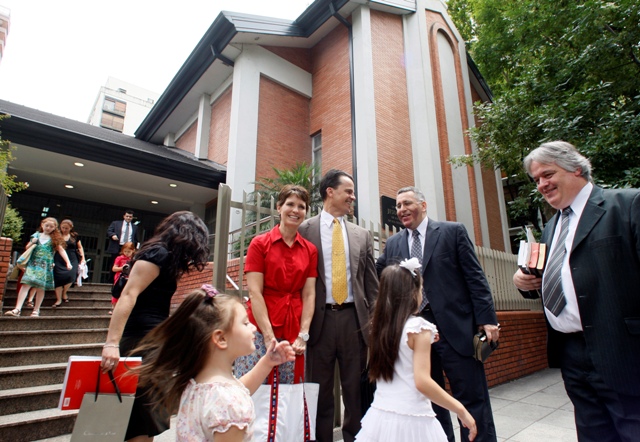 "I make a special appeal regarding how young women might dress for Church services and Sabbath worship. We used to speak of "best dress" or "Sunday dress," and maybe we should do so again. In any case, from ancient times to modern we have always been invited to present our best selves inside and out when entering the house of the Lord—and a dedicated LDS chapel is a "house of the Lord." Our clothing or footwear need never be expensive, indeed should not be expensive, but neither should it appear that we are on our way to the beach. When we come to worship the God and Father of us all and to partake of the sacrament symbolizing the Atonement of Jesus Christ, we should be as comely and respectful, as dignified and appropriate as we can be. We should be recognizable in appearance as well as in behavior that we truly are disciples of Christ, that in a spirit of worship we are meek and lowly of heart, that we truly desire the Savior's Spirit to be with us always" (Jeffrey R. Holland, To Young Women, General Conference, October 2005).
Both men and women have dress standards they generally adhere to when attending church. Men wear sports jackets, white shirts, ties, dress pants, and dress shoes. Women wear dresses or skirts, blouses or nice sweaters, and dress shoes. Clothing is modest and not revealing. Children dress as their parents do, although most little boys don't wear suits, substituting less expensive shirts.
That said, if someone shows up differently, it is unlikely anyone will say anything to you. One local leader said that anyone who attends our church is sent by God and so we welcome him or her. Visitors are always asked just to wear their Sunday best—and if jeans are the best you have, they are acceptable for the visit.
For Mormons, dressing nicely doesn't mean we think God won't love us or listen to us if we're not dressed nicely. It is a demonstration of our own faith and love for God—a gift we choose to give Him. When we go on a job interview, meet someone important, or attend a special occasion, we wear the nicest thing we have that is appropriate for the situation. To dress less nicely or less appropriately to visit God in His home would be to suggest we don't consider God important enough to dress up for. To most Mormons, it is a very small request from someone who has given us so much.