When the Savior started His earthly ministry He went to John the Baptist, who was baptizing in the river of Jordan. As he approached Him in the water, John said, "I have need to be baptized of thee, and comest thou to me?" This meant that he was just as confused as most of the rest of us when Jesus approached him with a desire to be baptized.
Jesus' response to that was, "Suffer it to be so now: for thus it becometh us to fulfill all righteousness. Then he suffered him."
This meant that in order for the Savior to be completely perfect and fulfill His father's plan, He had to be baptized. But how could that be when we are baptized to be forgiven of our sins?
Jesus taught that baptism isn't just a washing away of our sins but an entrance—a gateway that opens a pathway back to the Father.
This can be confusing because there is a common belief that God is both the Father and the Son. But this event tells us that not only was Christ baptized by water, but the Father, the Son, and the Holy Ghost are three separate beings. We call that the Godhead.
"And Jesus, when he was baptized, went straightway out of the water: and, lo, the heavens were opened unto him, and he saw the Spirit of God descending like a dove, and lighting upon him:
"And lo a voice from heaven, saying, This is my beloved son, in whom I am well pleased."
We have Jesus, who was just baptized by John the Baptist in His temporal, mortal body; we have the Holy Ghost, which descended in the form of a dove on Jesus' shoulder; and we have the voice of Heavenly Father. Three separate beings, but all with the same purpose. And that purpose is to help us make it back to them someday.
The act of being baptized by full water is symbolic. It represents our willingness to follow Jesus Christ, strip ourselves of our old selves and come out of the water, clean again. It's a symbolic death and rebirth. It's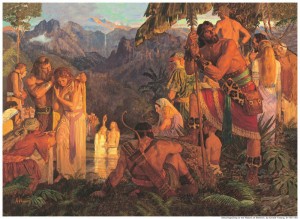 also essential to our salvation, including the Savior's. Even though He is God, because He chose to come to Earth in a mortal body and suffer for us, part of that deal included baptism.
To reiterate Christ's words, "For thus it becometh us to fulfill all righteousness. Then he suffered him." A common belief among Christians is thanks to Christ, by grace we are saved. Many believe that as long as we accept Christ into our hearts and believe on His name, we will be saved. Mormons believe very similarly. We believe that when we are baptized, we promise to take His name upon us.
We covenant, or make a promise with God, that we will do all that we can to keep the commandments and live as Christlike as we can. That's what we do when we follow the Savior's words, "For thus it becometh us to fulfill all righteousness." This means we help each other in times of need and we give ourselves through service whenever and wherever we can. He meant that justice is a real thing and that we need to fulfill that law. We need to do all that we can do to follow Him, just as He did all that He could to follow the Father. Then, after we do all we can, by grace we are saved.
"Then he suffered him," can be interpreted to mean that the law will suffer us. As long as we try our best and be baptized, then we are able to repent and be forgiven of our sins all throughout our lives.
Baptism was part of the law that Jesus had to fulfill. It was a symbolic message to us that because He was baptized, so must we be, by full immersion in water. It's that first step to entering the Kingdom of God.