BYU Students Share Letters & Reflections on Scripture
BYU (Brigham Young University) is operated by The Church of Jesus Christ of Latter-day Saints, often mistakenly called the "Mormon Church."  As part of their undergraduate coursework, BYU students take multiple semesters of spiritually uplifting, stimulating religion classes.
In this series (see below), students enrolled in scripture study classes have shared their thoughts, insights, and reflections on the Book of Mormon in the form of letters to someone they know. We invite you to take a look at their epiphanies and discoveries as they delve into the scriptures.
In publishing these, we fulfill their desire to speak to all of us of the relevance, power and beauty of the Book of Mormon, a second witness of Jesus Christ and complement to the Bible. The Book of Mormon includes the religious history of a group of Israelites who settled in ancient America.  (The names they use are those of prophets who taught the Book of Mormon peoples to look forward to the coming of Christ—Nephi, Lehi, Alma, Helaman, and other unfamiliar names.  We hope those names will become more familiar to you as you read their inspiring words and feel the relevance and divinity of their messages through these letters.)
Let us know if you'd like to receive your own digital copy of the Book of Mormon, and/or if these messages encourage and assist you spiritually as well.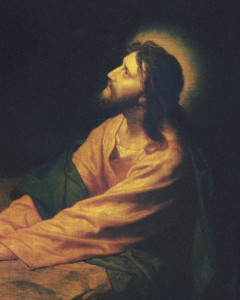 Not My Path, but Thine
An email written to my sister
Hey Britt,
In my Book of Mormon class we talked about something that made me think of the two of us. We are reading in Ether 1 right now, where the brother of Jared is praying to the Lord to help guide him and his family somewhere safe. In verses 41 and 42, God directs the brother of Jared to "go to and gather together thy flocks…and thy families," and after he's done that, to "go at the head of them down into the valley which is northward. And there will I meet thee, and I will go before thee into a land which is choice above all lands of the earth."
What's interesting is that the Lord is only giving the brother of Jared a few steps to follow at a time. He does not reveal the entire path that he and his family are to follow, but rather gives him two steps and a brief glimpse of the future. He also doesn't make it as easy as he could for them. The Lord has the power to provide them with all their provisions and to carry them easily to the Promised Land, but that would not give them a chance to exercise faith in Him and to develop. The final destination is the Promised Land, but what's important is how the Lord gets us there.
This is applicable to how Jesus Christ will guide and direct us as well. The Lord does not give us a detailed layout of our entire life plan because that would defeat the purpose of why we are here. The point of being here is to learn to have faith in Him and trust that he will guide us where we can grow and become like Him. The Lord does not reveal the path of our lives in full detail because it isn't the destination that's most important. Returning to Heaven so that we can live with Heavenly Father is an important goal, but what's more important is that we become like God along the way. We lived with Him for eons before coming to Earth, so what will be different when we return to him is how we've changed. If we trust in God's path for us, if we follow his guidance even when it leads us to places we didn't think we were supposed to go, He will strengthen us far past our own abilities. If the Lord gave us everything we asked for, if he made it easy for us, then we would not progress as far as the Lord has planned for us. Rather, it is through exercising our agency in a faithful and righteous manner and learning to submit our will to Heavenly Father's that we develop spiritually.
The reason that I thought of you when we were talking about this is because of your mission. I know that you had planned on going on a mission and serving the Lord, and that would have been a good experience. But the Lord had a different path he wanted you to follow, and John came into your life.  You determined that the Lord wanted you to forego a mission at that point and marry John instead. I know you had a bit of a struggle making that decision, but I'm so grateful you had the courage and faith to follow the Lord's plan for you. We may struggle with disappointment and confusion when the Lord upsets what we thought was the plan, but I know that it will be for our greater good if we submit to His will.
I love you Brittie
If you are reading this post and have questions or comments, I would be happy to hear from you.
Additional Resources: